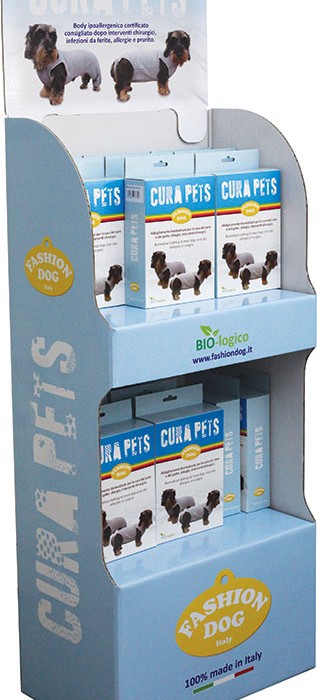 Since 1995 Fashion Dog designs and produces Apparel for dogs exclusively in Italy using high quality fabrics and directly controlling the entire production line. All Fashion dog items are in stock and a minimum order is not required.
After several years of activity in the production of clothing for animals, specifically dogs and cats, "Fashion Dog" decided to design a line of products called "CURA PETS", the principle of which is to be an effective alternative to the famous, as hated and poorly tolerated, Elizabethan Collar for dogs and cats, whose main function is to not allow the animal to lick the wound or scratch in case of dermatitis, unfortunately more and more frequent.
The idea of CURA PETS comes from a direct request of Fashion Dog customers (pets care, veterinarians) and it is achieved through the relationship with the Consortium Vis Carpi (Dress in Health) that since 2003 produces a biological tissue and hypoallergenic, tested with University of Modena and Ferrara, made entirely in Italy
The product CURA PETS performs the same function as the Elizabethan Collar without any limitation of movement created by the collar, with a particular attention to the dignity of animals.
The product CURA PETS prevents the owners of dogs and cats the annoying and embarrassing Elizabethan collar when their pets are suffering for dermatitis, have been injuried or are recovering from surgery.
CURA PETS, made with a specific fabric, particularly light and comfortable to wear, is produced in different sizes. Easily adaptable to the size of the animal allows a minimally invasive recovery after surgery or it is an extremely tolerable solution for annoying allergic dermatitis.
Hypoallergenic fabric – 100% organic cotton
The inner fabric is organic and hypoallergenic and it was developed for human use. It is made from 100% organic cotton and all the production is performed in certified companies in the Carpi district where Fashion Dog is located. The Hypoallergenicity certification is the result of tests on volunteers suffering of contact dermatitis. Tests on dyes and finishing agents for fabrics performed at the dermatological clinic of the department of medicine and medical specialties mixed University of Modena and Reggio Emilia allow to exclude the presence of allergenic substances.
The fit of CURA PETS is the result of twenty years of experience in the production of clothing for dogs.